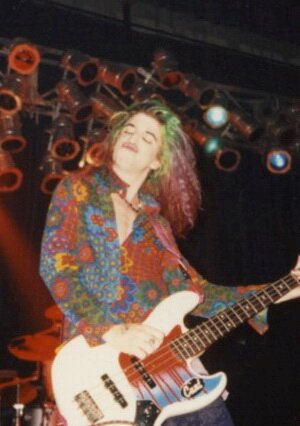 Псевдоним: Гиджет Гейн (Gidget Gein)
Роль в группе: бас-гитара
Период участия: 1989 — 1993
Имя: Брэд Стюарт (Bradley Mark Stewart)
Дата рождения: 11 сентября 1969 года
Место рождения: Голливуд (Hollywood), штат Калифорния, США
Дата смерти: 8 октября 2008 года
Интернет:
МУЗЫКА
Псевдоним «Gidget Gein» образован из имени Гиджет (Gidget), и фамилии американского убийцы Эда Гейна (Ed Gein).
Наряду с Мэнсоном и Путески, был одним из первых участников Marilyn Manson. В период записи их первого альбома «Portrait of an American Family» Гейн был уволен из-за чрезмерного и безконтрольного пристрастия к наркотикам. Толчком к увольнению послужила передозировка героином в 1993 году, когда музыкант попал в больницу. Он успел записать линию баса для 7 песен.
В 1996 году Гейн создал собственную группу под названием Gidget Gein and the Dali Gaggers. Команда выпустила один альбом — «Just AdNausem» (1998), в 2000 году он был переиздан под названием «Confessions of a Spooky Kid».
В 2007 году музыкант записал две сольных пластинки — «Suspension of Disbelief» и «The Law of Diminishing Returns».
GOLLYWOOD
В период музыкального отпуска после деятельности в составе Gidget Gein and the Dali Gaggers, Гейн вернулся во Флориду, где работал судебно-медицинским экспертом, делая записи на сайте под псевдонимом «BAG BOY». Опыт профессии вдохновил его на художественное творчество, и он задействовал себя в арт-движении под названием The UNPOP ART Movement. В 2004 году, переехав в Голливуд, начал устраивать художественные выставки и модельные показы, под общим названием GOLLYWOOD.
СМЕРТЬ
9 октября 2008 года Гиджет Гейн был найден мертвым в своем доме в Барбэнке (Burbank), штат Калифорния. Он скончался от передозировки героином.
ПРОЧЕЕ
В 2004 году он принял участие в видеоклипе Marilyn Manson на песню «(s)AINT» в роли трансвестита. Одна из его скульптурных работ присутствует на видео.
Doubts surface about carrageenan
Sara Baker cooks dinner with her daughter Megan at their home in Bloomington, Ill. Baker avoids the food additive carrageenan and will participate in a study about it. (Ben Woloszyn, For the Chicago Tribune)
Sara Baker says the light went on in her head after a cup of hot cocoa set off a storm in her stomach.
«I went back and looked at the package, and there it was: carrageenan,» said Baker, a career services coordinator from Bloomington, in central Illinois.
Baker had been taking medication for ulcerative colitis for years but still suffered debilitating digestive flare ups without warning. She had read warnings about carrageenan in a natural health newsletter but didn't take them seriously. After all, researchers haven't conclusively linked the common food additive to gastrointestinal problems in humans.
This time, though, «it really clicked,» she said. «It took awhile to learn just how many things it's in, but now that know, I can avoid it, and I no longer have the problems.»
Experiences like Baker's have led some people with gastrointestinal problems to sidestep mainstream medical advice and avoid carrageenan, a seaweed derived texturizer found in meat, dairy and other processed foods including some organic products.
For scientists, however, these are just anecdotes. Though studies on lab animals and human cells have suggested that carrageenan can cause gastrointestinal inflammation, many researchers and physicians say it's unclear whether the additive has the same impact on people who consume it.
Scientists at the University of Illinois at Chicago and University of Chicago are seeking to address that question with a controlled clinical trial that Baker is participating in.
«I believe it's worth investigating and doing the science to find out,» said Dr. Stephen Hanauer, a medical professor and chief of gastroenterology and nutrition at University of Chicago Medicine. Food and Drug Administration in 2008 to prohibit the use of carrageenan in food.
Her petition cited decades of publicly funded, peer reviewed science including her own on carrageenan induced inflammation in animals and cells. In June, the FDA responded with a letter of denial.
Tobacman said «it was disappointing that, with such clear evidence about the effects of carrageenan on inflammation, the FDA did not restrict the use of carrageenan, particularly in infant formula.» Europe doesn't allow the ingredient in formula.
The additive, which lends a uniform, creamy texture to food, can be found in soy milk, yogurt, ice cream, cheeses, some meats, diet soft drinks and even toothpaste.
Michael Adams, deputy director of the FDA's Office of Food Additive Safety, said the petition didn't make a compelling case to re examine the safety of carrageenan. «It has been reviewed repeatedly by FDA scientists and other international organizations, and in the judgment of those experts there hasn't been a problem,» he said.
Adams called a rat study from 2006 «the gold standard for us because it exactly mimics the exposure consumers are going to get when they eat these carrageenan containing foods.»
That study was funded and performed by a manufacturer of carrageenan. Adams said he didn't know that but added: «If you look at the science and you believe it's well done, it doesn't matter where the money comes from.»
The Cornucopia Institute, a Wisconsin based organic industry watchdog group, was expected to release a report Sunday night on carrageenan called «How a Natural Food Additive Is Making Us Sick.»
Charlotte Vallaeys, Cornucopia's director of food policy, said the group felt «an ethical obligation» to raise awareness. «If government agencies weren't going to protect consumers, then it seemed we needed to let consumers know about this so they could protect themselves.»
The institute also is challenging the FDA's denial of Tobacman's petition. Among other objections, Cornucopia's letter to the agency asks why officials didn't consider any studies on carrageenan published in the last four years.
Adams said the FDA's scientific evaluation in response to the petition was finished in May 2009, after which it spent more than three years in what he calls the «administrative chain.»
While the Chicago researchers proceed with their work and advocates seek federal action, some consumers and activists have made an impact on their own by lobbying manufacturers directly to phase out the ingredient.Articles Connexes: