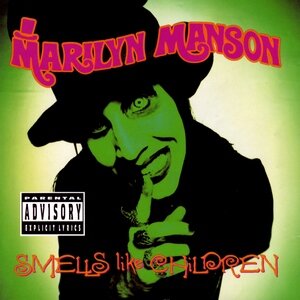 Название: Smells Like Children
Дата релиза: 25 октября 1995 года
Лейбл: Nothing / Interscope Records, Atlantic
Продюсеры:
Marilyn Manson, Trent Reznor, Charlie Clouser, Dave Ogilvie
Состав:
Marilyn Manson — вокал
Twiggy Ramirez — бас-гитара
Daisy Berkowitz — гитары
M. W. Gacy — клавишные, синтезатор, лупы
Ginger Fish — ударные
Синглы:
«Sweet Dreams (Are Made of This)» — 1996 год
Треклист:
1. The Hands of Small Children
2. Diary of a Dope Fiend
3. Shitty Chicken Gang Bang
4. Kiddie Grinder
5. Sympathy for the Parents
6. Sweet Dreams (Are Made of This)
7. Everlasting Cocksucker
8. Fuck Frankie
9. I Put a Spell on You
10. May Cause Discoloration of the Urine or Feces
11. Scabs, Guns and Peanut Butter
12. Dance of the Dope Hats
13. White Trash
14. Dancing with the One-Legged…
15. Rock 'n' Roll Nigger
16. (Untitled)
«Smells Like Children» — первый альбом ремиксов Marilyn Manson. Помимо ремиксов на пластинке присутствуют музыкально-звуковые эксперименты участников группы.
В промо-версии альбома отсутствует первый трек. Также промо содержит два трека не вошедших в финальную версию — «Abuse» и «Abuse (part 2)», а «May Cause Discoloration of the Urine or Feces» носит название «Procardia» и завершает диск.
ВИЛЛИ ВОНКА
На обложке Мэнсон изображен в виде персонажа известного художественного фильма-сказки «Чарли и Шоколадная фабрика» — Вилли Вонки (Willy Wonka). «Вилли Вонка один из наиболее загадочных персонажей детских фильмов. Он одновременно и Сатана и Христос.» — объяснил Мэнсон в одном из интервью.
СЛАДКИЕ МЕЧТЫ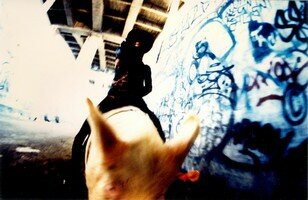 Видеоклип режиссера Дина Карра (Dean Karr) на песню «Sweet Dreams (are made of this)» стал для группы одним из ключевых прорывов — MTV включили клип в топ-ротацию. Моментально песня стала хитом, а количество поклонников значительно выросло.
Junior defensive tackle already famous with college fans
Derrick Brown, who ranks as one of the state's top three prospects for next year, already is famous among some fans of college football recruiting.
The junior defensive tackle from Lanier High realized his stardom when he attended an SEC football game a few months ago.
«It was Vanderbilt's home game against Florida, and I was walking through the crowd with some other recruits,» Brown said. «I heard somebody say my name, but we kept walking because I couldn't really see who was saying it.
Derrick Brown of Lanier High, considered a top junior player who will be highly courted in the 2016 class. I think he had looked me up on Rivals. He said, 'Derrick, I called your name back there. May I have an autograph?'
«I told him I couldn't because they had told us in the meeting before the game not to sign anything. But yeah, that was kind of crazy.»
College scouts also are going crazy over the 6 foot 4, 309 pound junior who has athletic skills that more resemble a running back than a bulky lineman. «He's basically a 300 pounder who moves like he's 200 pounds,» Lanier coach Korey Mobbs said.
Brown has 36 early scholarship offers, including from Georgia and Georgia Tech. And during this month's NCAA contact period, when most colleges focused on seniors rather than juniors, head coaches such as Alabama's Nick Saban, Florida's Jim McElwain and Auburn's Gus Malzahn made the trek to the Gwinnett County school to eyeball Brown.
«We've had a lot college coaches tell us that he's the total package,» Mobbs said.
«The quick twitch he possesses is different than most kids his size. And they're all attracted to his great demeanor for game. He plays football the right way: He goes hard every play, and he lets his playing do the talking.»
Brown is rated as the state's No. 3 junior in the 247Sports composite rankings, trailing only McEachern defensive tackle Julian Rochester and Stephens County offensive lineman Ben Cleveland.
«We measured Derrick and the rest of the players barefooted at RisingSeniors,» said Rusty Mansell of 247Sports. «Obviously, he was taller and bigger than I thought, and that got my attention pretty quickly.
«I watched his team practice two of the three days, and he was pretty much dominant all day long, every drill. He's just so athletic and 'quick twitched.' He has got a spin move or he can bull rush you.
«For a high school defensive tackle, he is extremely polished and extremely athletic and that's a rare and dangerous combination.»
Both of Brown's parents attended Mississippi State, and the Bulldogs have made his top 10 list of favorite colleges, along with Georgia, Auburn, Alabama, South Carolina, Clemson, Florida State, Ole Miss, Vanderbilt and Tennessee. He plans to reach a college decision after taking all five official visits next year.
Brown's coaches first noticed him when he was oversized running back routinely sprinting past defenders as a seventh grader. This past season, Brown had a few signature moments while leading Lanier to a 10 1 record.
«There was this play against Flowery Branch when the quarterback threw a pass to other side of the field, and Derrick made a tackle for only a 2 yard gain,» Lanier defensive coordinator David Willingham said. «To watch a 300 pound guy run that fast and quick to tackle a receiver. All of us coaches just looked at each other and were like 'wow.'»
Lanier's biggest win was a narrow 26 23 decision over Gainesville that ultimately decided the region title.
«Right before half, Derrick intercepted a pass and returned it for a 54 yard touchdown,» Mobbs said. «He ran away from three or four skill players. That's when we knew he was special.
«There was also a play against Heritage. Brown rushed the passer, and he got his hand on the quarterback just as he threw the football. It went to a receiver on a dig (short) route. Derrick ran down the receiver, and he caused a huge fumble that we recovered.Articles Connexes: